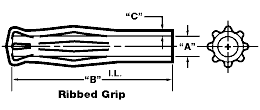 The unique design of these ribbed grips makes them stand out from the traditional straight grip. The flexible vinyl material provides a conforming fit and makes installation quick and easy while the internal channels insure a secure hold.
Contour ribbed grips are available in our four most popular grip sizes.
Shop Online Now Quote and Sample Request
Ribbed Grips
Inside Diameter "A"
Max Length "B"
Nominal Wall Thickness "C"
Econo Wall
Heavy Wall
in
mm
in
mm
in ±.010
mm ±0.25
in ±.010
mm ±0.25
0.625
15.88
3.500
88.90
0.065
1.65
0.070
1.78
0.750
19.05
4.250
107.95
0.075
1.91
0.090
2.29
0.845
21.46
4.375
111.13
0.075
1.91
0.090
2.29
1.000
25.40
4.375
111.13
0.080
2.03
0.095
2.41
Chart for typical single dip wall specs - Formulas (Flexfit, etc.)
Materials
Most of our Flexfit vinyl grip materials perform well as contour ribbed grips. The softer materials typically require a liner material in order to function properly and not slip on the bar.
Double Dipping
Contour ribbed grips can be utilized with our proprietary double dipping technology to create more functional or attractive grips. Dual wall grips better satisfy our customers' never ending desire for grips that are extremely comfortable, but do not wear down or puncture after continued use.
Printing, Packaging & More
GripWorks offers a full array of finishing operations to satisfy all of your requirements. The following options are available for all of our foam grips and vinyl grips, including tool grips, handle grips, and just about any grip application possible.
Imprinting
Punching
Slicing
Similar Products