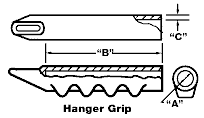 Add value to your product with the help of a GripWorks hanger grip. These grips are great for all kinds of tools, brooms, brushes, utensils, and other products that people like to hang for storage.
Each hanger grip has convenient finger nubs that make them comfortable and easy to use. They can be made in extremely bright and vibrant colors and are easy to decorate for fully promoting any brand.
Hanger grips are available to fit the three most popular bar sizes, but hanger features can also be incorporated into a wide variety of custom grip designs.
Hanger Grips
Inside Diameter "A"
Max Length "B"
Nominal Wall Thickness "C"
in
mm
in
mm
in ±.010
mm ±.25
0.710
18.03
4.250
107.95
0.085
2.16
0.845
21.46
4.250
107.95
0.095
2.41
0.970
24.64
4.250
107.95
0.095
2.41
Chart for typical single dip wall specs - Formulas (Flexfit, etc.)
Materials
Material selection is somewhat limited for this product line as not all materials will allow the hanger eyelets to form properly. Standard materials are our Flexfit and Softex™ varieties.
Double Dipping
Dual wall grips better satisfy our customers' never ending desire for grips that are extremely comfortable, but do not wear down or puncture after continued use.
Due to the manufacturing method used to achieve these hanger features, double dip designs are limited. Please consult your sales representative for more information.
Printing, Packaging & More
GripWorks offers a full array of finishing operations to satisfy all of your requirements. The following options are available for all of our foam grips and vinyl grips, including tool grips, handle grips, and just about any grip application possible.
Imprinting
Punching
Slicing
Similar Products